Andringitra National Park
Andringitra National Park, an extraordinary mountain range, park since 1993, it is of one of the most beautiful hiking destination of the Big Island. With its tropical rain forest and also its peak culminating at 2,658m, the mountain range extends from north to south acting as a topographic and climatic barrier.
Presenting an undeniable natural richness, Andringitra National Park is open to mountain hikers who appreciate the great outdoors. For the more athletic, a hike to the second highest peak in Madagascar is a must: Pic Boby! An accession which will also allow you to discover an endemic fauna and flora in the park.
The Park can be accessed from Namoly, 40 km (3/4 hours' drive) East from Ambalavao or from Tsaranoro Valley, 70km South-East of Ambalavao. (2 hours' drive). Tsaranoro is a great place to begin the long trek (3 days) to Pic Boby.
Like all mountain ranges in the world, the weather changes very rapidly and, due its high elevation, temperatures are very cold for Madagascar. On the same day temperature can reach 25 degrees during the day the fall below 0 degrees in the evening. The coldest temperatures in Madagascar are registered here. Bring warm clothing, sleeping bag and comfortable shoes.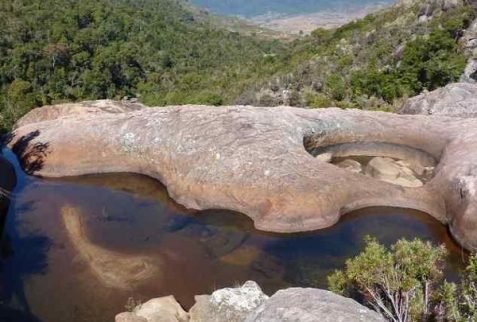 Flora
The ecosystem of the massif is divided into three categories, including a tropical forest at low altitude, a mountain forest and vegetation at high altitude. Andringitra literally means where there are stunted plants. The vegetation of the high mountains is shorter and the leaves smaller. Between the forests are scattered orchids, aloes, epiphytic plants, tree ferns, palm trees, pachypodiums and bamboos.
Fauna
In Andringitra are counted over 100 different species of birds, 55 species of frogs, over 50 species of mammals including 13 of lemurs, such as the ring tailed lemur, the golden bamboo lemur, the greater bamboo lemur, the common brown lemur, the red bellied lemur and the aye-aye to mention few.
Good to Know
Location
550 km South of Antananarivo (12 hours' drive) and 450 km North of Toliara (8 hours' drive)
Entry Fee
Park entry fee 65.000 MGA + guide from approximately 200.000 MGA per day. For smaller circuit, from 50.000 MGA for up to 4 people.
Our favorite hotels
Camp Catta and Tsara Soa Guest House in Tsaranoro. In Namoly hotels are very very basics, our customers prefer camping in the park.
When to Go
Mars to December
Tips
Hire a professional guide from Ambalavao, a 3 days hike to Pic Boby cost up to €150 pp including camping material and food. Transport to reach the entrance of the Park not included.