Sambava would derive its name from " Sahambavany ", which means " where rivers flow into the sea after meeting ". Indeed, Sambava is located at the mouths of 3 rivers, as well as at the crossroads of 3 roads for Vohémar in the north, Andapa in the west and Antalaha in the south.
Sambava is known throughout the world as the capital of the most sought after vanilla, bourbon. In 2015, you could buy a kilo for less than € 100. In 2019, a kilo of vanilla was selling for € 400 / € 500 eur per kilo. Today, in 2021, the cost of vanilla was €300 per kilo. Between January and February, Sambava is often hit by cyclones and this greatly affects the price.
History of Sambava
Radama I, during the conquest of the eastern and northern regions of Madagascar during the wars of unification of the country, had a military post founded near 1860 near Antalaha. Faced with growing insecurity in the region, the population asked the Antananarivo government to open a place in Ampandrozonana (3 km from Sambava).
It was only in 1897, after the colonization of Madagascar by France, that Lieutenant Gillet set up the district command headquarters in Sambava.
The establishment of the vanilla culture (from the Reunion Islands) from the beginning of the twentieth century and that of coffee, have contributed to the economic development of Sambava. It should be noted that although the production of vanilla is high, the richness is shared by very few.
Thanks also to a very humid and rainy climate, the region is also known for the cultivation of coffee, cloves, and the culture of the coconut palm.
What to see in Sambava
The large coconut palm plantations and vanilla drying / processing centers are very interesting to visit and there are several in Sambava. As for tourism, Sambava is the beginning of all 2 or 3 day visits to the Marojejy National Park. From Sambava many adventures also begin for the Masoala National Park passing through Antalaha and Cap Est.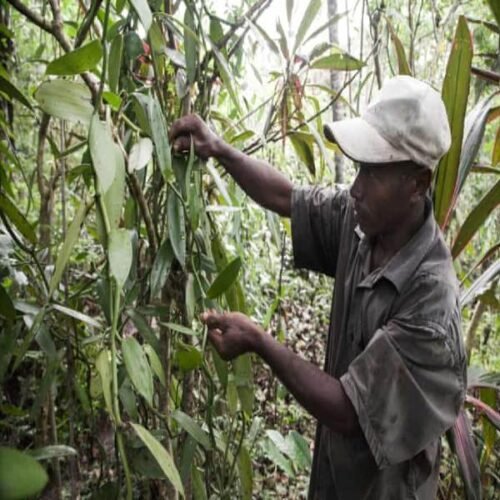 Tours that may be of interest...
The Classic Tour of Madagascar, from the Rainforest of Andasibe to the dry Southwest coast on the Mozambique Channel through the Central Highlands of the Merina and the Betsileo. A magical trip to discover some of the most iconic sights of Madagascar including the Parks of Ranomafana and Isalo.