Madagascar is known for its legendary unique flora and fauna and it is unfairly known as a beach destination.
In the Southwest, with more than 320 days of sunshine a year, along the second largest coral reef in the world, we find beaches that are unmatched by any beach in the world. The coral reef is approximately 400 km, it goes from Itampolo to Andavadoaka.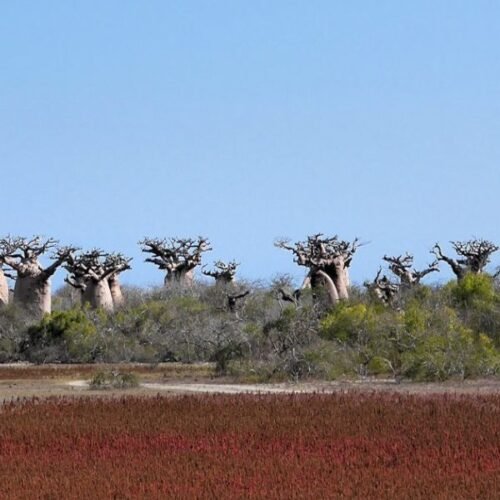 From the south, traveling northwards, the first splendid beach to mention is Itampolo. Not easy to get to, but you won't be disappointed with the journey, approx. 5 hours from Anakao (or 8 hours from Lavanono). Salapaly Bay beach is simply heavenly! Fine sand as far as the eye can see, coconut palms and crystal clear waters, that's what awaits you. You can also spot humpback whales from June to mid-September. Take a tour of the city market, observe the daily life of the locals and taste the local specialties: freshly caught lobster. Perfect for those who love being away from it all. Itampolo hotels are very rustic.
A 2-hour drive from Itampolo, we find Ambola where tourists usually stop to visit Tsimanampetostse National Park. Ambola has a splendid white sand beach and an unrivaled turquoise sea. On foot we can reach the coral reef not far from the beach. In Ambola there is also a good hotel, the perfect place to spend more than one night.
Anakao is the next beach, perfect for a beach holiday of several nights. Anakao has a very long white sand beach, turquoise sea and hotels to suit all budgets. Anakao, can easily be reached from Toliara by boat in less than 1 hour. Not to miss in Anakao a day in the sacred island of Nosy Ve, the tiny island of Nosy Satrana, diving, quad rental to discover the nearby villages and much more.
After Anakao, we move to the north of Toliara, skipping Ifaty and Mangily, not entering in our opinion in the category of paradisiacal beaches.
Our next stop has to be Salary, after approximately 4 hours of 4WD in a 120 km of sandy track. Salary is above all a infinite pool of turquoise water in a lagoon in an indredible perfectly shaped lagoon! The only negative point of Salary is that at low tide, it is difficult to swim. In Salary there are two very different hotels, one super rustic and another for more demanding customers.
There are other small villages with idyllic beaches before and after Salary but have all just very basic hotels.
An hour north of Salary we find Ambatomilo, in our opinion the best beach in Madagascar. Ambatomilo is incredible, it has a beach of several kilometers and even in August there are hardly any tourists. There are 3 different hotels in Ambatomilo: one with several simple bungalows but with the best stretch of beach in Ambatomilo, run by a very nice Italian; another managed by a talented italian lady who knows how to make you feel at home, with 4 bungalows worthy of a super well-kept 4-star hotel but with a small stretch of beach; the other, very picturesque, of the glamping type tents, in our opinion much too expensive compared to the other two options.
After Ambatomilo, we must mention Andavadoaka located approximately 4 hours from Ambatomilo. You can reach Andavadoaka driving along the RN9 to Morombe first. From Morombe, there are only 2 hours of track to get to Andavadoaka, in total approx. 7 hours. from Toulear. Andavadoaka is the best place to go scuba diving, the reef around here is in excellent condition and marine life is abundant. There are few hotels in Andavadoaka to suit all budgets.
Now it's up to you to decide where to go…
Tours that may be of interest...
No tours match your criteria